Your basic garden-variety Remo doumbek. How much can one say about Remo doumbeks? They're lightweight and portable. They're weather-resistant. They don't eat much.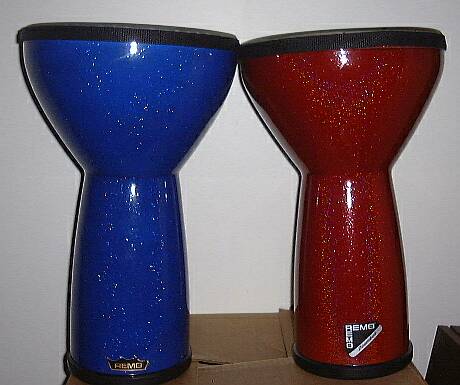 One can't have enough Remo doumbeks!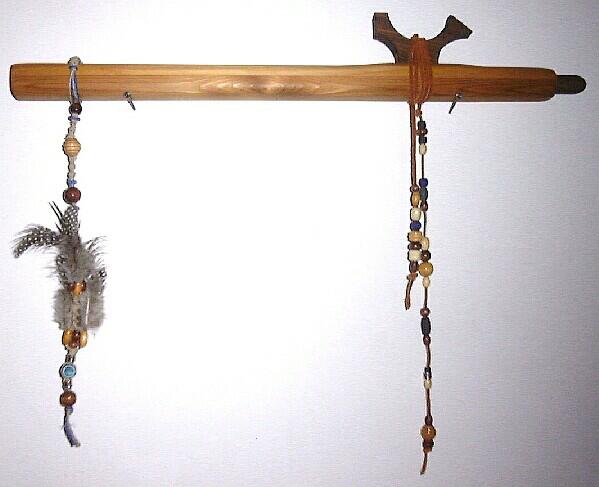 Time for another break from drums. I finished this on 12/29/99 and I'm very proud of it. It's a Native American Love Flute. It's a very expressive and dramatic instrument. I built it from a kit. I get credit for the shaping, the sanding, and the finish. Also the macrame and suede embellishments and the bead and featherwork were my idea. The company who made the kit gets full credit for the fact that it actually makes music!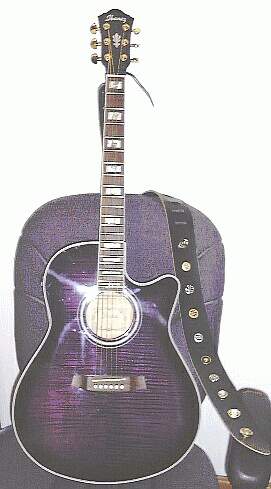 Here is my favorite guitar. It is an Ibanez AE30. The AE stands for Acoustic/Electric. That means it is an acoustic guitar you can plug into an amplifier. This is my dream guitar. IT'S PURPLE!!! The picture doesn't do it justice but it has a maple body, gold hardware, a rosewood neck and abalone fret markers, Fishman electronics...AND IT'S PURPLE!

When I was decorating the 'Healing Heart' drum, I wondered about making a gathering drum that was a bit more practical: easily transportable, weather-resistant, tunable... Then I thought about mounting floor tom legs to a retired bass drum...I thought to myself, "That's Nuts!" Then I went ahead and did it.

I bought this beautiful funky bass drum shell (Built by Ludwig, probably in the 70's) Then I hunted for a matching hoop and bought a new head and some hardware. Then I mounted the floor tom legs. The very next day I did a presentation for a group of early teens in a church school class on "Drumming as a way of meditation and self-discovery". I used it to teach the children Native-American style drumming in groups.

.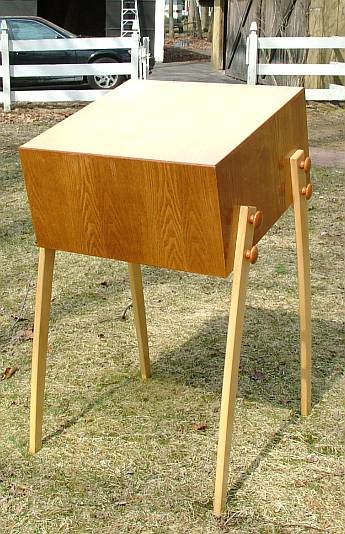 Sometime after David Kolb helped me create Koodori, he helped make this dream happen. This is a huge standing cajon drum made entirely of birch. The wooden cabinet is 2' x 2' x 1'. It can be played individually or by more than one person...like a gathering drum. As with Koodori, the lines are blurred between playable instrument and work of art.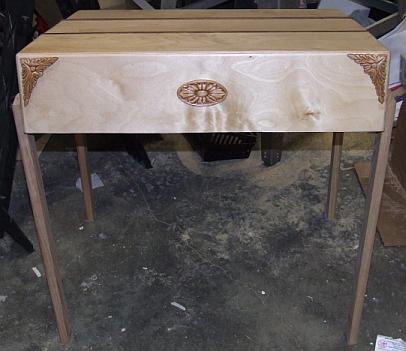 My latest creation is the "Temple Drum" named for the dry, hollow sound of Buddhist temple blocks. The Temple drum is basically a cajon drum with baffles which give different areas of the drum distinctly different pitches. It is played with superball mallets but can also be played by hand. It is built from birch with maple legs.
Below is the view of the playing surface...