It began with a dream of getting to play a Japanese taiko drum. Then, one day, while watching New England O'Daiko perform, I was chosen from the audience to go up on stage and play the 'big drum'.
A year or so later I would own my own taiko drum.
But no stand.
And then I got the idea of mounting 3 big drums horizontally (taiko style) and being able to play them from a standing position. One person could even stand on either side and drum together.
I even came up with a rough design...But I'm no carpenter.
One day I was talking about my idea and a friend of mine said, "I could make that happen for you. As a matter of fact, I'd LOVE to make that happen for you!"
David came up with essentially the same functional design that I did. We discussed the project and he took measurements as to how high and where the drums should be.
A month later my friend, David, came to the house with a second set of plans. He had been inspired by the fact that I'd be playing these big drums Japanese style...so he redesigned the drum stand to look Japanese!
...and turned a functional idea into a work of art!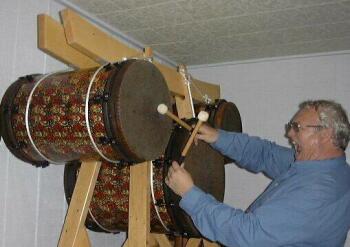 "Koodori" is a Japanese word
meaning literally,
"To jump or dance with joy"