Now seems as good a time as any to take a short break from drums. This is called a Bowed Psaltery. It is like a violin except all strings are played open. It is a very sweet-sounding instrument. Rumor has it that these were used in Medieval times to lull dragons to sleep before bashing in their pointy heads. I keep it just in case!


I always wanted steel drum. Dey so musical, Mahn! When I hear dem I want to put on a pair of shades and drink Pina Coladas and wear my hair in dreads and get sand between my toes and wear really loud shirts ...but I digress...Mahn. I fell in love with dis small steel drum. It sound good and it purple. What else is dare, Mahn?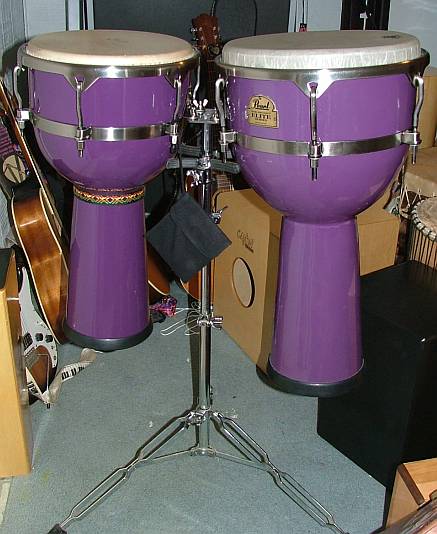 Speaking of purple...Two Pearl djembes. A 12" with a goatskin head and a 14" with a Nuskyn head by Remo. Mount them on a double stand and play them like congas. Awesome! (...and purple!)

.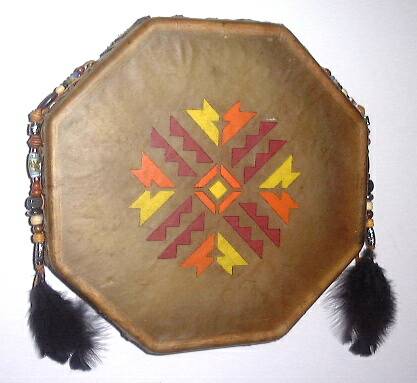 Here is the next in what I expect will be a long line of "Healing Heart Drums". This 15" x 4" drum was built of Purpleheart wood, a rare and hard and beautiful wood from Costa Rica. The playing surface is elkhide. It has 4 strands of beadwork decorating it including 2 strands of large beads including wood, ceramic, metal, glass, and bone, and 2 strands of fine beadwork including various semi-precious stones. It wouldn't be a "Healing Heart" drum without a heart hanging somewhere and this drum has a Rose Quartz heart and a few copper ones in the beadwork. This drum's sound is so deep that it sounds like a much larger drum.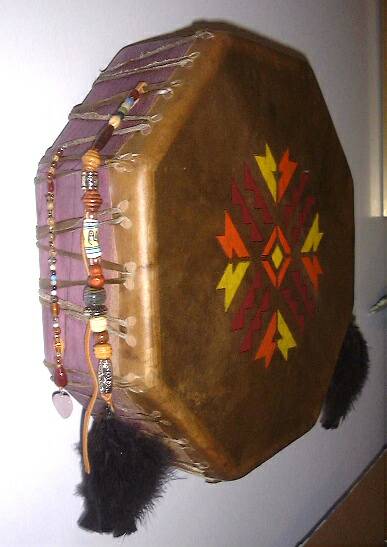 Some small feathers were added to this drum before it was declared finished. Notice the beautiful color of the wood. That wood is naturally purple...It's not stained! I'm very proud to have built this drum.