This is called an Ocean Drum. This was my Father's Day present in 1999 (Beats the heck out of tie!) It is hand-painted and has a strip of fancy material around its edge. Between its double heads are small beads. When you tip and revolve this drum slowly it recreates the sound of the ocean. Absolutely wonderful sound! A Tibetan drum.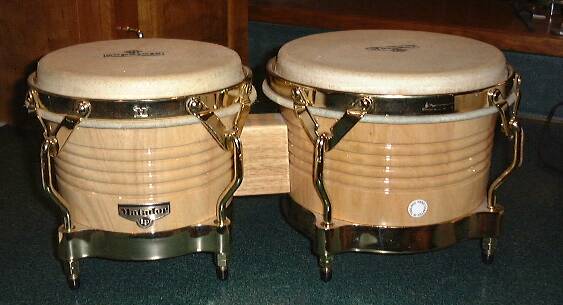 My bongos busted! AAARRRGGGHHH!!! And before I even got the chance to take a pic and show them to you! So here is their replacement...Made in Thailand of kiln-hardened solid hardwood these big, heavy bongos are awesome-sounding drums...and, hopefully, hard to break!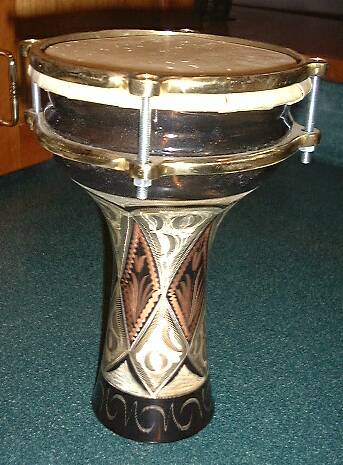 Here is a small, but beautiful, copper doumbek made in Turkey. Its enamel finish is hand etched. Its playing surface is goatskin.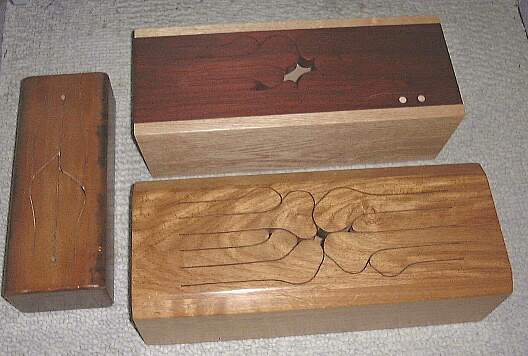 Here are my three finest tongue drums. They were all built and signed by Michael Thiele ...considered the best builder of these drums on the planet. What makes his drums so special is the way he gets the keys to conform to precise tunings. The small drum you see on the side has 4 tongues and is tuned to a pentatonic scale. It sounds very Chinese. The big drum in the front has 9 tongues and is tuned to a very African-sounding scale. The large one in the back has 10 tongues and sounds very Carribean. I love these drums!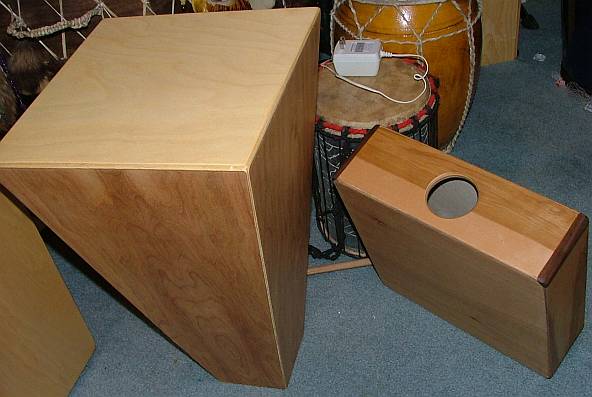 Want a handcrafted cajon drum? Talk to Chris at
www.slapdrum.com
On the left is a conga-style cajon drum. Simply the BEST sounding drum of its type I've heard. Incredible sound! (You can hear it on Chris's website) On the right is a "laptop cajon." Very portable, nice sound. Great for impromptu drum circles.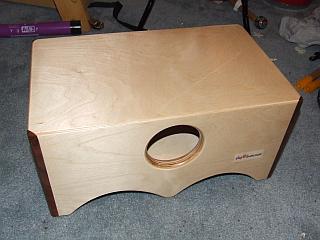 Here it is. SlapDrum's BEST laptop model and one of my 3 favorite cajon drums. If I were to accurately describe the sound and playability of this drum you would run screaming into the night... or the forest... or some such place. So I'll just say it sounds great. :-)