Beatniks
Church's popular drumming sessions free the spirit
By JAMES REED, Standard-Times correspondent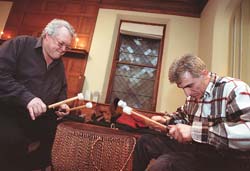 When the lights dim and candles flicker on Sunday nights at the First Unitarian Church in New Bedford, you might as well free up your hands and loosen your legs.

Even if you're the person who can sit through "La Bamba" and not swivel your hips once, before you know it, you'll be tapping your foot to a beat that is as infectious as any pop song you've heard on FM radio.
But no one sings here or struts around in sexy clothes to get your attention. Eyes are closed, heads are usually bowed and hands tend to flail so fast that at times they become a blur.
This is what Judy Cormier of Fairhaven calls "a well-kept secret."
With the focus on the spiritual, the New Bedford Unitarian Universalist Drumming Group is where as many as 20 people congregate to let off some steam from a rough week and enjoy fellowship with other people who dabble in drums.
"The cool thing about drumming is that you don't have to study music to appreciate it and participate," said Mrs. Cormier. She and her husband, Rick, are the group's unofficial leaders.
What started four years ago as a small gathering of church members has evolved into one of the area's premier drumming circles, attracting people hungry for release and relaxation.
A bad day at the office, an argument with a loved one, even post-Sept. 11 blues are all forgotten here when members, many of whom don't even know each others' names, gather with their instruments.
Ralph DeBalsi has been attending the group's get-togethers since last year and he still can't identify everyone who is at tonight's jam session.
"I couldn't tell you everyone's name, but I can tell you that I feel connected to all these people when we're playing," he said.
Church members John "Spence" Spencer and his wife, Suci, started the group after they got hooked on drumming at a summer music camp.
Tonight, 14 people have shown up, lugging their pride and joy with both hands. Once everyone has settled in, the drummers ease into a groove that depends on the person who initiated it.
"Usually what happens is whoever starts the piece sets the tone," Mr. Cormier said. "For example, if Judy begins something sweet and gentle with the flute, I'm not going to be wild and loud."
Informal and inviting, the pieces flow naturally so that participants can pick up anywhere they'd like. Judy Cormier likes to add flute accompaniment and usually lends a mellow touch to the sessions.
The crowd is mixed tonight, with some members looking young enough to be in their 20s and others in their mid-60s. The church's minister, the Rev. Carol Karlson, has joined the group with a modest two-drum set that she plays thoughtfully.
The Cormiers often begin the songs, and their styles generally differ. Judy is soft and serene, while Rick, who began playing the drums when he was 9 years old, is the wild man.
Without appearing to try or even know it, Rick Cormier is the showman in this group, the heart and soul of it. Yet never does his musicianship seem forced or ostentatious. He is a dynamic man with a nature that is as fetching as his vibrant playing.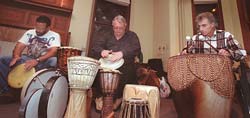 With his head arched, legs extended and shoulders heaving, he represents the pure joy that music can invoke. He flashes wide, open-mouthed smiles as his eyes squint and his hands snap into a mambo-tinged jam full of down-and-dirty improvisation. His head bobbles so much that occasionally you wonder if it'll slip right off his neck.
Try as you might, with this group it is almost impossible to resist the urge to pound on something, be it your knee, the guy beside you or the floor. The rhythms are infectious. It's unspoken, but the group loves it when somehow everyone ends a song on the exact same beat.
"Hey!" they yell out as a piece finishes in perfect unison.
"That's one of the things that's been happening a lot to us lately," said Mr. Spencer. "Everyone starts to feel how everyone else is playing, and we surprise each other by ending at the same time."
Between-song banter is lighthearted and runs the gamut from Super Bowl predictions to who shops on eBay. And there's plenty of marveling at new acquisitions.
"Oh, that's gorgeous," cooed one participant as she took a look at the latest addition to Mr. DeBalsi's drum collection, which now totals somewhere around 15.
"Try it," he said.

"Not in public," she shot back. "Maybe if you bring it into the office."
But don't worry if you can't bring a fancy drum to play. Most members bring an assortment of instruments and place them in the center of the circle to pass around.
Make no mistake about it: the New Bedford Unitarian Universalist Drumming Group is no place for observers. You might go with the intention of watching everyone else play, but eventually someone will suggest you pound out a note or two.
"Now, you have to just try this before you go," they'll tell you.
If you're smart, you will.
The New Bedford Unitarian Universalist Drumming Group meets the second, third and fourth Sunday of each month at 6 p.m. at the First Unitarian Church, 71 Eighth St.