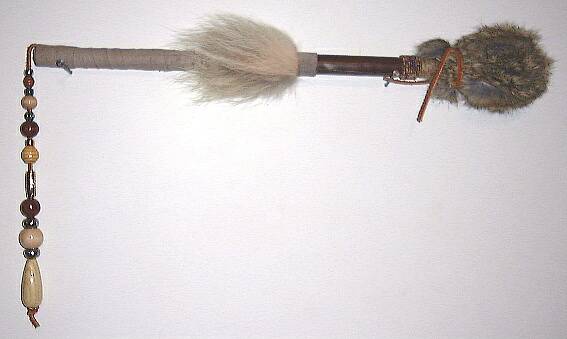 The beautiful beater above is decorated with brown/gray rabbit and a striking (pun intended) cream/gray coyote fur, top grain brown leather and grey suede, braided jute and beadwork on the shaft, and more beadwork hanging from the handle. Note: This beater is not for sale. It is my personal beater.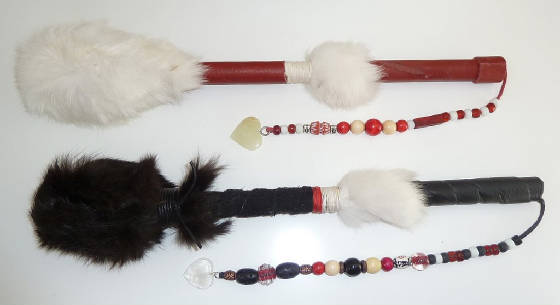 This order specified two beaters: "One red & white, and the other black, red & white." Here is what I built.

Beater in purple and white. White rabbit fur is complimented by purple suede and fine white rope. The grip is wrapped in purple leather. The matching beadwork is wood and glass with one large multi-colored glass bead. See pic below for detail of beads... SOLD
Beadwork closeup of purple beater above

This beater is a green version of my purple beater. Some beautiful fine matching beadwork is at the center of the shaft and some green hemp wraps the back end of the grip. The beadwork hanging from the end is in wood, glass and metal. A closeup of this beadwork appears below...SOLD

Beadwork closeup of green beater above

This tan and brown beater has a touch of blue. The tan rabbit fur beater head is tied off with piece of rust-colored suede lacing. Brown Italian leather continues down the shaft followed by wrappings of blue hemp. The second piece of rabbit fur is followed by tan suede on the grip. The beadwork is of wood, glass, copper, and resin with a Peruvian ceramic bead. Closeup of beadwork is below...

Beadwork closeup of tan/brown/blue beater above

CLOSE-UP PHOTO OF THE ITALIAN LEATHER
My denim beater! Light blue denim gives the beater head a sound that's somewhere between leather and fur. The playing head is tied off with soft deerskin lacing followed by some brown Italian leather. Some very simple beadwork hangs from deerskin lacing in the center of the shaft followed by a beautiful piece of brown rabbit fur, blue hemp lacing and more denim on the beater grip.
The Harley. The beater above was a challenging design. Top grain black leather, black feathers and beads with just a touch of color. A friend suggested that this one would make an excellent stocking stuffer for anyone into leathers and whips and such...sorta lends another meaning to the word "beater", doesn't it? ;-) It's a beautiful piece with a very loud voice. SOLD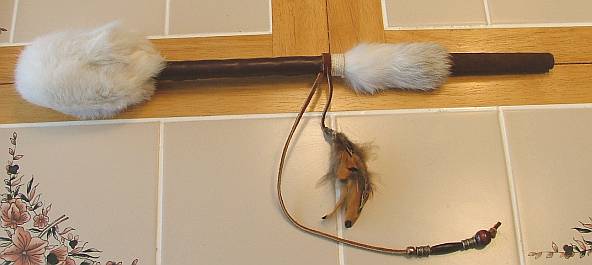 White rabbit fur is complimented by thick brown top grain leather. The grip is done in thick brown suede. Some simple metal and wood beadwork and feathers hang from suede lacing in the middle. The smaller piece of fur in the center has a light touch of grey. A subtle and beautiful beater.
NOTICE: As fast as I post pictures of my beaters on this page, they get sold. Much simpler to custom-build them. Same price. Email me and give me an idea of what you want and I'll build you an original beater.
New Cochiti-style Beaters ($50. each)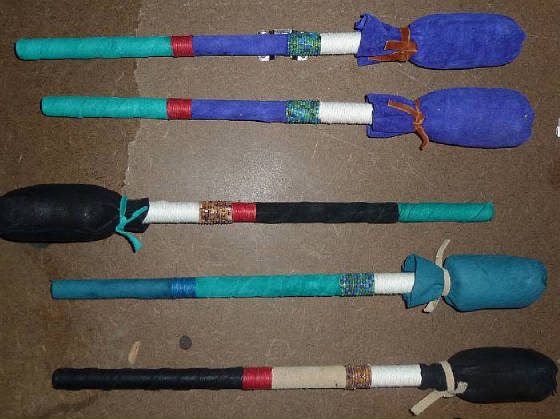 Cochiti-style beaters can be custom built with your color preferences. Just email and tell me what you'd like.